30 avril 2009
Here, are other American food :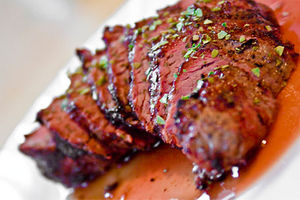 Filet Steak
Fast foods usually consumed by Americans are fast to prepare, cheap and tasty. But these are also high in fat, sodium, calories, sugar and cholesterol. Some of the negative and expensive heath results are obesity, heart disease, high cholesterol and cancer. For example, McDonald's is a major symbol of the United States lifestyle and culture. In fact, the idea of a fast restaurant meal has completely changed eating habits and referred to as McDonaldization. Almost a generation ago, close to three quarters of meals eaten by Americans were home made, but these days more and more number of people prefer fast food restaurants to home made food; mainly because its quick, cheap and tasty, and American families do not have enough time to cook up a full meal at home.
Obesity is posing as one of the major health problems throughout America. It is a state characterized by an accumulation of weight that is often caused by incorrect eating habits coupled with a sedentary lifestyle. It is also been universally recognized as a major risk factor for chronic diseases.
Commentaires sur The American Food " The Inconvenients"